Accelerator 10.5mm Standard Rope
Item Details
|
Reviews
(
1
)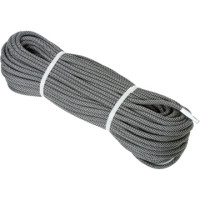 Description
If youre looking for one rope to suit your all-around vertical needs, reach for the Blue Water Accelerator 10.5mm Standard Rope. Built with longevity and durability in mind, this cord boasts a tightly braided double-pick sheath construction thats ready to withstand the abuse of your adventures. Thanks to an impact rating of 8kN, youre subjected to minimal stress when that sport lead project proves more difficult than anticipated. Since the Accelerator has a UIAA falls-held rating of 11, you dont have to worry about early retirement if that project does just so happen to spit you off .... more than a few times.
1 Review
Review
Review by: melbatoast, 2004-08-04
This rope is available at REIoutlet.com for $99 right now (August 4, 2004). I just ordered one.