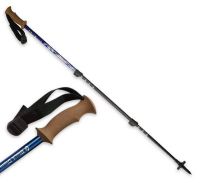 Description
This three-section pole telescopes down to 63 cm and is easily packed away and stowed on a pack. An effective blend of durable materials and the shortest collapsed length of any BD Trekking Pole make it an excellent choice for when collapsibility is an issue. The two FlickLock adjustments are a proven design and the pole can extend to 140 centimeters for taller folks. A single-density rubber and cork-composite grip offers a non-slip and comfortable feel. Like all of our trekking poles, the Access has superior 7075 aluminum shafts and a replaceable carbide tip.
1 Review
Review
Review by: xclimber, 2004-10-07
I really love the flick lock feature on BD poles. I wore the tips off of my Cascade Designs poles after 8 years, and wanted to go with a lighter, more adjustable pole (they were hole/button type), and was considering one of the more expensive BD poles, but these were only 2 ounces heavier than the $129 pole, and less than half the cost...