Acme Rock Helmet
Item Details
|
Reviews
(
3
)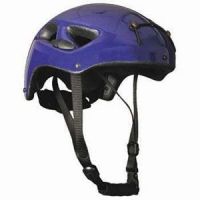 Description
The Rock helmet is designed for those who want to forget that they have a helmet on. Made from a high density polystyrene foam, with a PETG shell to provide maximum impact resistance. The Rock has an easily adjustable harness and enough ventilation to keep you cool while you are 30 feet above that last placement. Rock Helmet features: headlamp keepers, adjustable wheel at back of head, adjustable chin strap with side release buckle, and side vents.
3 Reviews
Review
Review by: brokenarmboy19, 2005-05-22
good quality for the price kida small(looking) but fits on my giant mellon but looks funny
Review
Review by: slacklinejoe, 2005-02-02
I was very suprised by it. As far as helmets it's super light weight and very comfortable. I'm glad it's rated because otherwise I wouldn't trust it as it's so light. Really nice adjustment points and good padding. Looks nice to boot.
Review
Review by: madrock, 2004-12-22
Light weight. Good headlamp clips. Great Colors. Chin strap was snug. Better than expected for a pricepoint helmet!