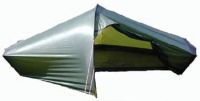 Manufacturer:
Hilleberg



This item may be available at:
Description
When the Akto was introduced 10 years ago it immediately set new standards for solo tents in the market. Innovative design offers unmatched stability, convenience and volume for a tent with only a single pole while keeping its weight to an absolute minimum.
You choose Akto if you want the very lightest tent and still want to be equipped for harsh weather, strong wind and pelting rain. Fiberglass rods in the corners keep the tent up and provide the volume needed to avoid feeling cramped without adding significantly to the total weight.
1.6 kg/3 lbs 8 oz is actually not much more than what a roomier sleeping bag cover weighs but the Akto has so much more! There is ample room for moving about and for stretching in the morning and the vestibule provides a sheltered area for your equipment and to eat under cover. Three vents, two at the ends of the tent and one high up at the entrance give sufficient ventilation.
In need of a comfy bedroom with low weight, plenty of space and foul weather protection? Step right in! Akto is a multi-talented tent for adventure racers on a quest for minimal loads and for those who seek to keep their backpacks light on longer hikes into the wilderness. A Hilleberg tent for all seasons.
OUTER TENT FABRIC: KERLON 1200
COLOURS: GREEN AND RED
*Min. weight kg/lbs: 1.3 kg / 2 lbs 14 oz ~ Packed weight: 1.6 kg / 3 lbs 8 oz (Minimum weight includes inner tent, outer tent and poles while packed weight refers to the complete tent)!
A complete tent consists of inner and outer tent with guylines and runners, poles, pegs, stuff bags, spare pole section, repair sleeve and instructions
* inner tent height: 36 inches ~ area inner tent: 18.3 ft² ~ area vestibule: 8.6 ft²
AKTO ADVANTAGE:
~ Outer tent fabric in Kerlon 1200.
~ Inner tent fabric in water repellent and venting nylon.
~ Strong nylon ground sheet with PU coating, bathtub floor.
~ Pole tensioner wide enough for "double poling".
~ Pole sleeve with one opening only with room for "double poling".
~ No-see-um netting in inner tent entrance (with covering panel).
~ Spacious vestibule for (wet) gear and the preparation of food.
~ Vent in outer tent can be closed completely.
~ Outer tent vent of water repellent and snow proof fabric under cover.
~ Linked inner and outer tents pitch simultaneously – both can also be pitched separately.
~ Two strong guy line attachments and double line runners on each side.
~ Clothes line loops and inner pocket in inner tent.
~ Vent high up in roof for best "chimney effect" and two vents at the ends of the tent.
INNER TENT:
Pitching of inner tent requires extra pole holders - see accessories.
Akto means "alone" in Sami.
Equipment
Poles: Aluminum 9mm
Pole length: 1 x 115.4 in. (293 cm)
Pegs: 10
Stuffbag, pole bag, peg bag, guy lines, line runners, spare pole section, pole repair sleeve and instructions.
1 Review
Review
Review by: athikerol, 2004-05-25
I bought this in my effort to go ultralight. So far I love it! I spent 1 night in a downpour, even setting it up in rain so hard you couldn't see 20 feet in front of you. I stayed dry all night and no prob with wind gusts 30-40mph (that's a guess). Sets up quick, it's light weight and, like I said, since the fly is attached you can set up in the rain and keep the inner tent dry. Only downside is with the fly attached you're packing a wet fly, but you can detach and hang outside of your pack to dry if you want. Very high quality. I highly recommend it.