Alaska Geographic: Climbing Alaska
Item Details
|
Reviews
(
0
)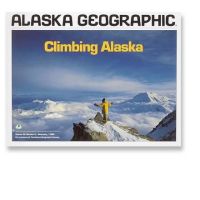 Description
112 pages; softbound
full-color photographs throughout
11 x 8-1/2 inches; ISBN: 1-56661-042-7
Publication date: September 1998
Climb to the icy summit of North America, scale the Mendenhall Towers, where some of the best climbing rock in Alaska awaits, and learn to "think like an avalanche" in Climbing Alaska. This book takes a look at some of the world's most perilous peaks and those who dare to challenge them.
Photographs by Galen Rowell, Bradford Washburn and others beautifully illustrate a text that encompasses most of Alaska. Also included are a table of first ascents of named mountains over 12,000 feet—appearing in print for the first time—and an illustrated glossary of climbing terms.
Famous turn-of-the-century pioneering stories such as Dora Keen's first ascent of Mount Blackburn, the pluck of the Sourdough Expedition and Hudson Stuck's ascent of McKinley tell the history of mountaineering in Alaska while revealing some of the fearsome obstacles early climbers had to overcome. Informative sidebars scattered throughout the book introduce colorful climbing personalities from Frederick Cook to Ray Genet to Vern Tejas.
Noted outdoor author Jonathan Waterman profiles the accomplishments of legendary mountain photographer and explorer Bradford Washburn, and avalanche expert Jill Fredston teaches readers how to avoid disaster in a chapter devoted to climbing hazards and avalanche preparedness.
For more than a century, mountaineers worldwide have been coming to Alaska to explore ranges that offer everything from alpine to ice to rock climbing. In Climbing Alaska climbers, guides and mountaineering experts delve into the mystique that draws thousands of people to Alaska's mountain ranges each year.