Approach
Item Details
|
Reviews
(
2
)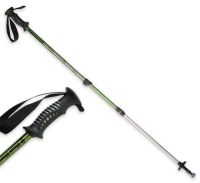 Description
Using the Binary and FlickLock adjustment systems together, the Approach pole extends and collapses quickly and stays in place on the most rugged terrain. Simply pull the bottom shaft out, twist, and the binary adjustment locks into place. No need to optimize the length since that is done using the upper shaft's FlickLock adjustment. The dual-density grip is easy on the hands over those long hauls. A flip-top strap adjustment on each grip allows quick and easy positioning of strap lengths.
2 Reviews
Review
Review by: yamama, 2005-04-13
During spring break a friend and i did half of the BRT, which is about 17 miles. These poles were kick ass, once they were locked they never moved. Black Diamond is a great buy! And i got them 40% off.
Review
Review by: sarcat, 2003-04-04
Just picked up a set used. I like them so far becasue they seem staible and durable. My old cheap-o poles would "slide" if weighted to much and these don't. I use my old ones for all around hiking, skiing, snowshoeing. and I'll do the same with these.