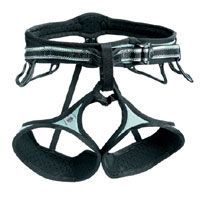 Manufacturer:
Petzl



This item may be available at:
Description
This Elite series harness is designed for the serious climber who is looking for both high performance and all-day comfort. It is equally at home on serious tower climbs or a one-pitch redpoint. Designed around the male torso, the waist belt is larger in proportion to the legs than the Ciconia.
TECH SPECS
Twin-Air waist belt construction
Delta System leg loops
4 rigid Fast Forward gear loops
Sizes: XS, S, M, L, XL
Weight: 480g.
1 Review
Review
Review by: sci_boy, 2006-04-03
This was (is) my first harness. Apparently this model has been discontinued, so i got a good deal on it. Actually, I tried out and hung from several different types of harnesses, and the Aquila was the most comfortable. Compared to the standard issue gym rental, it was unbelievable. However, now that I've climbed in it for a year, I would like to have some adjustability in the leg loops (I have a gap of almost a fist width), as well as a gear loop in back.