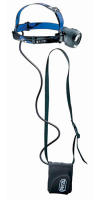 Manufacturer:
Petzl



This item may be available at:
Description
A lamp much appreciated by mountaineers undertaking winter expeditions, this is THE headlamp for very cold conditions. Its new battery pouch (one 3LR12 battery) slides under the clothing to stay warm and also clips onto the belt (the life of alkaline batteries is significantly lowered in cold conditions). Separated in this way from the battery container, the Arctic headlamp is very lightweight on the head. The light source is directable and the zoom bezel allows the width of the beam of light to be adjusted. Supplied with a standard 4.5V spare bulb.
1 Review
Review
Review by: rockmaninoff, 2004-08-09
When used with its halogen bulb, this lamp could put a spot of light on the dark side of the moon. Unfortunately, it consumes more power than a weekend in Vegas. I use the alkaline battery adapter (3 AA's), and have to use new batteries for every trip. One set of AA's MIGHT last for an entire weeklong backpacking trip, but I'd take an extra set. It also has the frustrating tendency to turn itself on inside the pack. I do like wearing the batteries around my neck rather than on my head, but this annoys many users.