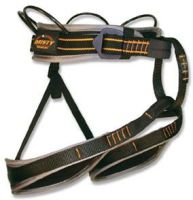 Description
Whether you're just starting to climb, or trying to redpoint your latest project, the Arete offers integral foam laminate in a strong, lightweight climbing harness. Elasticized fixed leg loops provide comfort and freedom of movement for the gymnastics of high end sport climbing. Features include a bombproof belay/rappel loop, four upturned gear loops and tail tuck sleeves.
Fully padded waist belt and leg loops for comfort
Dropable leg loops
Tail tuck securely holds buckle webbing tail
Elastic hold up straps
2 Reviews
Review
Review by: punk_rocker333, 2005-06-03
I love the simple nature and comfort of this harness. My friend had it for a while and I loved using it. It just so happens I got one for my birthday. Great comfort for rappeling, and the unfixed leg loops are very comfortable. I really like the simplicity, in that there are no adjustable leg loops, and four gear loops is enough to hold plenty of draws and biners for any climb short of big wall. I would recomend this harness for anyone.
Review
Review by: 0crazyedge318, 2004-04-11
this harness is comfortable reasonable price the only thing it lacks is adjustible leg loop's. but the fixed leg loop's dont ride upon you during repelles, this harness is a great harness for sport and trad and i would recommend this harness to any climber