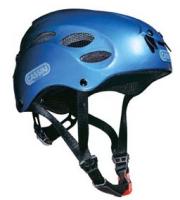 Manufacturer:
Cassin



This item may be available at:
Description
Astral has been Cassin's definitive response to the evolution of modern climbing helmets. Featuring the unique Air Ventilation System, Astral has been designed to keep your head cool and comfortable in all conditions. Inner piping allows warm air to pass through the helmet structure to maximise ventilation. Quick and simple fitting thanks to the new Rotomatic adjustment system – one size fits all. Easily visible in low light conditions, Astral also features night location 3M inserts. An outer shell manufactured from polycarbonate and an anti-abrasion treated polystyrene provides extra durability without compromising weight or comfort. The inner crown is treated with an anti-bacterial agent and is non-allergenic. Supplied complete with headtorch supports. A winter version is also available with visor and ear protection. Astral is now available with a cavity optional extra of the Led headtorch (not supplied). Stability has been improved with secure internal strapping. Available in three colours: Blue / Orange/ Anthracite. Weight: 350g

• • Unique air ventilation system
• • Thanks to the new rotomatic adjustable system one size fits all
• • Plenty of accessories (visors, ear protection)--Cassin


2 Reviews
Review
Review by: magpie, 2004-12-19
I'm a woman, and don't necessarily have a big mellon, but love this helmet. With the Rotomatic adjustment system, you can quickly and easily tighten or loosen the fit to accommodate a hat, or just to make minute adjustments. One or two clicks and it's perfect, and this can be done one-handed (so can be done safely while you're belaying)

I agree that it took some finagling to adjust the ear straps just right, but once that's right, you're good to go. I think this is a comfy helmet as far as helmets go.
Review
Review by: jercech, 2004-10-15
You gotta have a big mellon to fit this helmet. The thing is W I D E ! I do have a big mellon and this helmet fits me just fine. I got this helmet for the side impact protection afforded by foam helmets. I keep my hardshell helmet around for mountaineering use.

It is light, comfortable, durable, and seems tough enough for every day use. It is well ventilated but will overheat on hot, sunny Colorado days.

Two minor niggles: The top of the chin straps mounts
out on the shell and kind of cross my ears funny until I got them adjusted just right, and the glue holding the foam crown pad let go and I had to add some velcro tape to hold it in place.

All in all, a worthy foam helmet if your head fits it.