Attache Spinball
Item Details
|
Reviews
(
8
)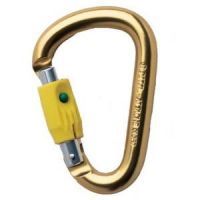 Manufacturer:
Petzl



This item may be available at:
Description
The Petzl Attache Spinball Carabiner is a rapid manual locking version of the Attache biner. Ideal for attaching oneself to the belay, and for belaying directly off the anchor. Pear-shaped design and round cross-section facilitates belaying with a Munter hitch. A compact biner, it is easily manipulated with one hand and its light weight makes it the ideal companion for mountaineering as well as rock climbing.
8 Reviews

Write your own Review


Read all 8 reviews
Review
Review by: sixleggedinsect, 2005-05-06
buy these up while they're still available. they're discontinued. these are my favorite belay biners. unlike most of the world, apparently, i love the spinball for rockclimbing. for me its as fast as a screw, but without any of the mess. no getting stuck shut. no getting stuck open. no inadvertent spinning of the gate screw and locking it onto my gear loops by mistake. you can turn the spinball either way to unlock it. if it gets gummy you can clean it with little fuss. and the gate locker wont get spun open by a rope or munter pushing on the gate. ive abused mine for years and no broken parts. the mechanism is finally getting a little more tricky to spin, but the grooves are starting to show so im moving onto the next one anyway. wish they still made 'em. (edit.. i dont like this in very dusty areas like indian creek where the sand gets in the mechanism and makes it very hard to use. indian creek is the only area ive had consistent problems with it, though, and i get out a lot..)
Review
Review by: forkliftdaddy, 2005-04-08
Great biner for when you want a locker on a piece of gear. One turn, it is locked. One turn, unlocked. Admittedly not good for use with with gloves. Great otherwise.
Review
Review by: theakeidah, 2004-06-03
I like mine for Sport Climbing! All my friends want to use it at the crag.
Review
Review by: boltbreaker, 2004-06-01
Heres what I have to say: Don't buy biners with plastic parts!!!
Review
Review by: scubasnyder, 2004-05-12
This is a good biner for "Rock climbing" wont work with gloves. This thing is great though unlike the normal ball locking mechanism by petzl, this does not get messed up after getting it wet or if it gets all chalked up, i had a automatic locking biner and the thing would get stuck from having chalk on the inside mechanism. but i have the bigger version of this the william ball spinner and they are awsome got 2 of them in fact.