Aurora (Womens)
Item Details
|
Reviews
(
1
)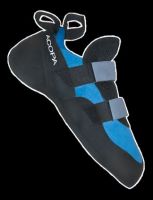 Manufacturer:
Acopa



This item may be available at:
Description
Geared for the beginning to intermediate climber with a lower foot volume and narrower heel, the Acopa Aurora fits snugly without excess space. Unlined leather uppers, a somewhat excessively cushy shoe tongue hope to provide a good shoe for gym/bouldering/sport routes.
All Around Sport Velcro
Womens Specific Last
Medium Stiff Polymer Mid Sole
Comfortable Padded Mesh Tounge
Unlined Leather Uppers
4.2mm RS Rubber
Contoured Rand
~1.1 lbs. per Pair
1 Review
Review
Review by: lithiummetalman, 2004-06-01
Dude/Dudettes, this shoe got all the mojo ya need to kick some ass on rock, it's great for folks with narrow heels, finally! I have narrow heels and most shoes don't fit my heel without farting or slipping, but these shoes fit like a sock! No movement slipping or farting they rock!, and the way the front of the shoe is shaped, it eliminates deadspot in the toe area (read the website or climbing magazine's review to make some sense, but it's easier to try them, and then it makes sense) really focuses some serious toeing power! They edge really well, and not at all bad for smearing. Highly recommend this shoe for excellent all around/ sport/ bouldering/long route shoe. They do stretch quite a bit (unlined leather uppers) though, so size them small, I sized my shoes 2 sizes down. and they now fit wonderfully!