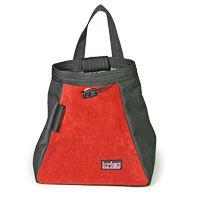 Description
This bomber chalk pot cinches tight and has a five-block carrying capacity. A great community chalk pot for a cadre of boulderers. Super wide square base keeps the pot upright. All Krieg products are handmade and every batch of bags is different, so you'll be sure to stand out in the crowd.
1 Review
Review
Review by: mr_crimps, 2006-08-31
This chalk pot is awesome. I put a pound of Metolius super chalk in it and it's more than enough for everybody to get in on. My only complaint is that I wish it had a pocket for my cell and my keys, but other than that it is great. The stiff sides keep the pot from collapsing and the wide base prevents it from tipping over (even in the gym when it is on the same mat you are landing on).