Bachar: One Man, One Myth, One Legend
Item Details
|
Reviews
(
3
)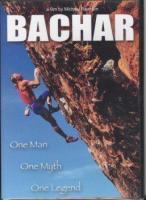 Manufacturer:
Other



This item may be available at:
Description
This long anticipated profile of a climber, John Bachar, who for many years was considered America's strongest and most daring rock climber, has finally arrived. In every sport there are men, myths and legends. In the world of rock climbing and free soloing without a rope, there is only one name that fits all three: John Bachar.
Controversial and uncompromising, Bachar pushed the boundaries of what was possible and raised the world's standards at a time when climbers merely pursued the physical in climbing.
A true rock star as a teenager, Bachar soloed 5.11 when 5.12 did not yet exist, he created the first 5.12 in Yosemite Valley, bouldered harder, climbed stronger and refused to compromise his ethics along the way. Then, at the height of his fame, he disappeared.
John Long says. 'There has never been anyone like John Bcahar, and there never will be again.'
Peter Croft says, 'Yosemite was THE place, Bachar was THE guy, that makes him more than just a climber.'
This film has never before soon footage and photos, and a personal journey guided by Bachar himself about what it was like to be the greatest climber in the world.
This film features exclusive interviews with the legends of climbing, including Bachar himself, Royal Robbins, John Gill, Bob Kamps, Peter Croft, John Long, and David Schultz. Written and directed by Michael Reardon.
3 Reviews
Review
Review by: johnnym, 2006-06-30
Had my copy given me by the movie maker, Michael Reardon and had wanted a copy for an absolute age. Loved it! As some have commented, perhaps some more climbing footage would have made it a 6 in the up to 5 rating scale, but the background behind Th Man, The Myth & The Legend makes a great documentary. Thanks Michael!
Review
Review by: slablizard, 2006-06-21
Awesome. A personal insight in the essence of climbing. More a documentary on the man and times than climbing footage (very little). A must have.
Review
Review by: j_ung, 2006-06-06
[size=12][b]Full Disclosure: The company that manufactured this equipment provided it free of charge to RC.com and RC.com then provided it as compensation to the reviewer for his or her review. This company does not currently advertise on RC.com.[/b]

[i]"Yosemite was THE place. Bachar was THE guy. That makes him more than just a climber. [/i]– Peter Croft

[i]"$10,000 to anybody who can follow me for a day." [/i]– John Bachar

If those two quotes together don't perfectly sum up the legend that is John Bachar, I'll eat Ron Kauk's hair. All that remains is to fill in the details. From where did he come? Who were his influences? What drives a man to not only become arguably the best climber of his generation, but one who did much of it ropeless, adrift in Yosemite's vast seas of granite?

If you ever wonder what the answers to those questions are, or if you only know that Bachar liked to solo and was really good at it, then Michael Reardon's [i]Bachar: One Man, One Myth, One Legend [/i]is well worth your time. And I guess that means this DVD is for most of us, because while Bachar pushed the limits of climbing far beyond what anybody thought possible and sat at the center of one of climbing's most infamous controversies, today many of us haven't really a clue about him and what he did. [i]Bachar: MML[/i] is a profile of one of the sport's most colorful, controversial, standard-pushing climbers carried out by Reardon, who also fits that mold. Though Reardon himself never appears on the DVD (we barely hear his voice once or twice), it is essentially one stratospheric free soloist exploring the deeds and inner workings of another.

[i]Bachar: MML[/i] jumps right into the man's psyche from the get go with the tale of an famous note pinned to the Camp 4 bulletin board one sunny morning: "$10,000 to anybody who can follow me for a day." It's a brash note. It's a dare, but one he knew would never see an attempt, let alone fulfillment, because, to put it simply, [i]nobody [/i]could follow John Bachar for a day. And [i]everybody[/i] knew it.

[i]Bachar: MML[/i] takes off from there straight into his childhood. Throughout the DVD the viewer is treated to interview after interview with those who know John Bachar best: his father and brother, his closest friends, several climbing partners and even many other luminaries of that time and before it. Royal Robbins pops in. John Long participates, too. John Gill and Peter Croft lend a hand. And in a striking addition to [i]Bachar: MML[/i], Bob Kamps (I assume only months before he passed) also speaks extensively on style, ethics, Bachar and free soloing.

[i]Bachar: MML[/i] pulls its punches in only two areas. Most noticeable is that, while it delves extensively into that which makes Bachar tick, it lacks climbing footage. Much of it has never been seen before, but all in all, we get to see only seconds of John Bachar moving over stone. And while that's completely understandable from a historical standpoint – there simply weren't many cameras rolling in Yosemite in the 70s and 80s – we also don't get to see him climbing [i]today[/i]. In [i]Bachar: MML[/i], he states that he still climbs and occasionally solos up to 5.11. None of it! We do get treated to his home-built training facility, though, and "Bachar" ladders abound. Reardon does a good job picking back drops for interviews… half the time. The other half we see Bachar's dad's living room, John Long's office and similar places. The problem isn't so much of backdrops themselves, but of acoustics, which are poor in those spaces. During those interviews, the sound is tinny. Dave Schultz and John Bachar by comparison, are outside with actual stone behind them. The effects in those cases are better.

[img]http://photos.rockclimbing.com/photos//748/74815.jpg[/img][/size]
[i]A much more recent shot of John Bachar, ropeless and onsighting "Out to Lunch," 5.11a, Joshua Tree, CA. Photo by Al Swanson and used here with permission from Acopa USA. All rights reserved.[/i]

[size=12]To Reardon's credit, however, he adds a ton of photography of Bachar in action, and many of those breathtaking shots I've never seen previously.

All this is well and good, but how [i]accurate[/i] is [i]Bachar: MML[/i]? It's a documentary after all; can we trust it? Luckily, I live a stone's throw from another guy who was there, who soloed next to Bachar and hung out in many of the settings we see on the DVD. I grabbed a six pack and headed to Kurt Smith's house. For the next hour I sat and watched the DVD with him. His eyes lit up time and again as forgotten memories flooded back in. But while, yes, according to him, [i]Bachar: MML[/i] is accurate, it seems to have glossed over one of the central events of the time: the bolt wars. Royal Robbins delivers a perspective-laced sentence or two about the Camp-4 parking-lot fight, but it's obvious to me – listening to Smith's stories – that Reardon decided it might be better not to go there.

So what makes a good documentary? Does it enthrall the viewer? Does it inform? If those are its measures, then this one certainly qualifies. Of all the climbing vids I own and have watched, it has the least actual climbing footage, but for some reason, it's the one I've watched most by far. [i]Bachar: One Man, One Myth, One Legend [/i]is available at numerous websites. Check [url=http://www.chesslerbooks.com/eCart/viewItem.asp?idProduct=3553]this one[/url] first.
[/size]