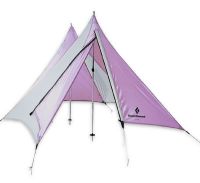 Description
Ideal for backpackers, trekkers and backcountry skiers--the Betamid is a smaller, lighter version of the Megamid that can be set up using adjustable trekking or ski poles. Once set up, it provides a bomber shelter for two people, weighs about two pounds and costs less than $100. That said, the Betamid isn\'t like some other tarp shelters that are only good for keeping the rain out--it will stand up to insane weather conditions and can handle more wear and tear. Plus, an optional "bathtub style" detachable floor is available (see BLD0198) that keeps even more weather out and only adds 1.25 pounds
FEATURES
Material: Waterproof ripstop polyester
Seam sealed: No
Number of doors: 1
Bathtub floor: Optional
Ventilation: None
Numbers of poles: 2 trekking poles
Clip or sleeve: N/A
Packed size: 4x10in
Packed weight: 1kg
Minimal weight: 1kg
Warranty: 1 year
Recommended use: Super lightweight minimalist tent
2 Reviews
Review
Review by: renhoek, 2004-04-20
ive had one for a few years now and i love it. mines yellow and grey and its by all means my best peice of backpacking equipment. best tent ive ever had.
Review
Review by: rcaret, 2003-09-25
You either love floorless tents, or you hate 'em. I on the other hand, don't mind a few creatures, and after years of using tarps, I'm confident that I can keep out any storm. I love the lighter weight and freedom to crawl inside with boots or crampons on. When it's pouring rain, I love pushing aside the groundsheet I sleep on and cooking without fear of frying the floor. And in hot weather, I like pitching the canopy high and letting the breeze blow through.

Having tested the Betamid in all sorts of weather, I can attest that this two-person structure maintains the love-hate dichotomy. The tent provides a good amount of headroom and covers 55 square feet of ground, which is plenty of space for two people and gear. The canopy itself, made of polyurethane-coated 70-denier ripstop nylon, is meticulously sewn to create a rugged product that (after you've sealed the seams) will withstand years of blustery, wet weather, as well as blistering exposure to the sun. The tent pitches taut, but because you need seven staking points, first-time setup is slow. You can, with practice, erect it quickly and break it down in a minute flat.

The Betamid's optional bathtub floor ($50, 19 ounces) buttons on the inside to the walls of the tent. Bring it along when you want the greatest weather security; its elevated edges and the nylon's polyurethane coating will certainly keep you dry. Since the floor is relatively heavy, however, I opt to carry a length of Tyvek house wrap as my groundsheet (6 ounces).

One bugaboo: The Betamid comes without poles. You'll need adjustable trekking or ski poles to double as the tent's two interior posts. Alternatively, dead branches can serve as posts, or the canopy can be hung from a tree.

I'll modify my Betamid in two ways: I'll attach another staking point in the center of the rear panel to keep it taut in strong winds. And, as with my Megamid, I'll sew a 14-inch-tall strip of mosquito netting around the tent's bottom perimeter to keep skeeters out in summer and to throw snow onto as an anchor in winter.