Big Easy Carabiner - Bent Gate
Item Details
|
Reviews
(
3
)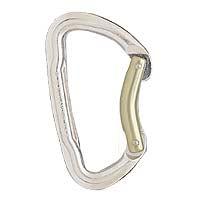 Description
This oversized 'biner is designed for alpinists, big-wall climbers or anyone who needs large carrying capacity and quick-clipping capability. Large rope-bearing radius minimizes rope wear; large size allows more maneuverability, even with gloves or mittens Unique geometry makes them stiffer and stronger for their weight than conventional biners Bent gate features a gaping, 1-inch opening for easy clips Made of super-durable aircraft-quality aluminum that\'s cold forged, then heat-treated for added strength Anodized finish for added protection and color-coding your gear Closeout
3 Reviews
Review
Review by: vertical-rockrat, 2004-03-04
I love these on my quick draws for the rope clipping, the bent gate has a compound feel to it. force it open about 1/3 and it releases easily. The over all feel of the gate is somewhat stiff but the shape is awsome for i have smaller fingers so i can get them from my harness fast. And clip the rope easy.
Review
Review by: scubasnyder, 2004-02-08
Great for making quickdraws, love these biners.
Review
Review by: sarcat, 2003-04-04
All of my quick draw bottoms are made with this biner. BD has been great over the years because as I've needed more of them they have been easy to find in the same color of the ones I purchased years ago. (I like a nice tidy color coded rack). Price is steeper than other makes but I like to keep my $$ local (Utah).