Bionic Crampon
Item Details
|
Reviews
(
2
)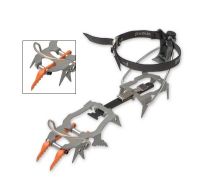 Description
Fit is king when it comes to performance climbing—when the high-tech Bionic hits the ice this season, it'll be sporting a Micro-Adjust Heel Lever. Within seconds and without tools, the Bionic can be fine-tuned for a near-flawless fit. We've also lengthened the secondary-point spurs for enhanced frontpoint stability. The Bionic's tapered frontpoints can be adjusted as dual- or mono-points and can now be spaced further apart for better frontpoint penetration. Horizontal, flared rails allow boots to ride closer to the ice, providing rock-shoe-like precision and touch. For pros and beginners alike, the Bionic is still the final say on today's challenging mixed and ice lines. Includes Bionic Spacer Kit.
2 Reviews
Review
Review by: adamtd, 2005-03-05
A little on the heavy side, but they are very easy to adjust and switching between monopoint and dual pint is great. They hold up to the abuse that I dish out and the horizontal design allows them to be used on less vertical terrain also. I have the old style with the shorter secondary front points, I hear that the new ones have longer secondary front points which would be a great improvement.
Review
Review by: brianthew, 2004-06-02
I've climbed in them for a season, and am a fan. They do thier job, and are very nicely adjustable. The convertable and customizable front point configurations are a plus, as is the easy getting of spare parts. Very similar to the offerings by Grivel, my buying decision was based on price (Bionics were on sale, cheaper than the Grivels by a good margin).