Bora 95 (2004 model)
Item Details
|
Reviews
(
2
)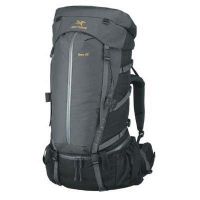 Manufacturer:
Arcteryx



This item may be available at:
Description
The only things that won't fit in this bag are your ambition and dedication. A cavernous 95 litres of storage space – more than enough space to haul the gear required for week-plus trips. Complete with a full-length side zipper, bag divider, and a separate zippered sleeping bag compartment, you'll be able to keep things organized and access items without disturbing the rest of the contents. Arc'teryx™ is a leader in high-concept backpack technology and has broken ground with their unique thermo-formed back panel and hip-belts. The Bora 95 is packed with cutting-edge features like a preformed and precurved multi-laminated foam hipbelt, dual-density shoulder harnesses, and a thermo-formed back panel.
The 2004 model boasts a new weatherproof, WaterTight™ urethaned pack fabric, and updated smooth sliding WaterTight zips. The thermo-formed shoulder harness and the waistbelt deliver superb fit and uncompromising long-term comfort. Both the harness and waistbelt are available in different sizes. There's even an occipital cavity that allows you to look up without hitting the top of the pack with your head.
-Bladder pocket and hose clip.
-Laminated internal pocket inside kangaroo.
-Double-layered fabric pack bottom.
-Stretch-woven fabric on body contact surfaces.
-Lid converts to a waist pack.
-Hipbelt features four layers of laminated and thermo-formed foam that are curved and cupped for the ultimate in comfort.
-Hipbelt angle is adjustable to provide customized fit.
-Internal frame consists of a removable 6061-T6 aluminum V-stay suspension system with integrated composite load transfer rods and high-density polyethylene framesheet.
-Six external compression straps.
-Full length side zip for easy access.
-Kangaroo pocket with drain hole.
-Two external daisy chains, ice axe holders and wand pockets.
-Key clip in the top pocket.
-92L capacity (Regular).
2 Reviews
Review
Review by: biff, 2004-08-24
95l = 5800 cubic inches.


I own the 2002 model of this pack that doesn't have the waterproofing. I don't think that the waterproofing is worth $100, I would rather just have a bag cover. I love this pack, I can put my rack, rope helmet, food and (really big) camera all inside and have room to spare.

As with all Arcterex large bags, the top bag comes off and has a waist strap to be used ad a fanny pack, which is handy for long multipitch routes to carry food and emergency supplies.

The one thing I wish this pack had was a zipper on both sides of the top pack. I usually put alot of the things I want quick access to in the top bag, and when the pack is on the ground with the straps down, it is very hard to get at the zippers on the top bag.
Review
Review by: tattooed_climber, 2004-04-16
Well, i don't have the 2004 model but I do have the one before it and I love it....but the 2004 model was taking the best back pack and making it better, but for making it better, its now about a hundred dollars more. I paid about 350 Canadian for mine and at MEC, the 2004 model is 460 Canadian. But if you're serious enough to be doing this sport, or whatever sport you do, you'll apriecate this pack for that extra 100 dollars..