Brakeman
Item Details
|
Reviews
(
1
)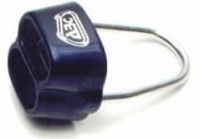 Description
The most essential piece of gear in you climbing arsenal is your belay device. Not only does your life depend on it, but your partner's as well. The Advanced Base Camp is constructed from a solid piece of aircraft grade aluminum. Silky smooth belays and rappels are the Brakeman's forte. Ridged retainer wire keeps you T-shirt and other items out of harm's way.
1 Review
Review
Review by: rockmaninoff, 2004-07-22
This product performs identically with the HB Sheriff. Gets the job done.