CLIMBER'S GUIDE TO THE TETON RANGE, 3RD EDITION
Item Details
|
Reviews
(
1
)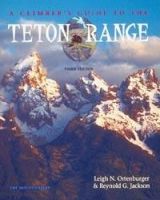 Description
Author : Reynold Jackson
ISBN: 0-89886-480-1
Pages: 544
Featured in Chessler's Best 100 Mountaineering Titles
Approximately 800 routes and more than 200 peaks
90 climbing route topos
For many years, A Climber's Guide to the Teton Range has been the first choice for climbers of all levels of experience looking for comprehensive information on this popular destination. Now completely updated, this guide covers approximately 800 routes and more than 200 peaks.
You'll find complete route descriptions with difficulty ratings, as well as detailed information on access, approach considerations, and region-specific safety measures. The region's climbing history, geology and climate are also detailed, along with hiking routes, equipment recommendations, and more. Everything you need to know about the Teton Range is available in this one source-it's a must-have for all mountaineers.
1 Review
Review
Review by: rockmaninoff, 2004-12-12
One of the classics of climbing and mountaineering. This book serves as a historical and technical reference for all who are interested in this truly breathtaking mountain range. Excellent photos and topos for many routes, although for those strictly interested in climbing the Exum Ridge of the Grand, Teton Classics has a more detailed topo. One of the few guidebooks that is interesting to read as a book.