CMG Infinity Ultra - Flashlight
Item Details
|
Reviews
(
1
)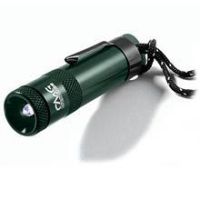 Description
The Ultra's compact and indestructible anodized aluminum construction make it every man's "do anything, take anywhere" L.E.D. flashlight. Indestructible Super-bright L.E.D. bulb emits a blinding 30 foot beam. Patented circuit booster provides superior luminosity and burn time from one economical and widely available AA battery. Circuit is coated with epoxy for extra durability and protected by two o-rings for a waterproof seal (to 10 feet). Equipped with one AA battery that generates up to 100 hours of burn time, and a metal clip for hands-free use.
-One Super-bright lifetime white L.E.D. bulb
-Patented circuit boosting technology gives the Infinity Ultra a 100 hour battery life on one AA battery
-Illuminates up to 30'
-Waterproof
-Weight: 2.0 oz.
1 Review
Review
Review by: nmoroder, 2004-08-15
Best flashlight I have ever owned. Uses 1 AA battery and lasts forever. Indestructable. This comes from a guy who has broken 2 Mag-lights. Light and compact. The clip is useful for attaching to a hat for use as a crude headlamp.