Caddy Chalk Bag
Item Details
|
Reviews
(
1
)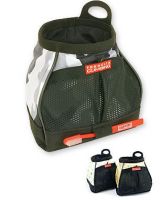 Description
This upright-standing, ultra-cool vinyl bag is clinically proven to attract the opposite sex and win you dates like no other. Note the horizontal toothbrush holder—you'll never end up in the ER with a toothbrush sticking out of your... ribcage. The spill-resistant inner elastic collar ensures that chalk stays in the bag—not on the ground.
1 Review
Review
Review by: freakystyley, 2004-02-07
OOPS - should be a 5

after being sick of chasing my crown royal bag all over the ground...and unclipping my chalk bag from my harness...I broke down and got this bucket. It looks sort of neon flashey foo foo - but whatever, it hold the chalk upright. My 1.5 yr old can't pull the chalk balls out not tip it over...and the brush slot is along the bottom. Very sturdy, holds 2 or 3 reg. size chalk balls, and easy to lug around.