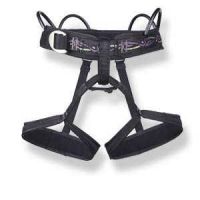 Description
Girls and guys are different and sometimes the other harnesses canít make the grade. Thoughtfully designed with a smaller waist and longer rise to specifically fit the female physique, the Calypso lets you climb without impeded mobility. Go ahead and high-step, twist and turn or contort into a million positions - the Calypso wonít stop you!. With its plush padding and gear loops, this versatile harness fits like a dream and has all of the technicalities you need to push the limits.
1 Review
Review
Review by: solonomad, 2004-07-20
I have always enjoyed Black Diamond harnesses for their unique design to fit the female figure effectively. Using the Calypso has been awesome because I have the mobility I need to make difficult pitches and holds, it complimented my body structure and gave me the flexibility I need for hard climbs. I will always buy a Black Diamond female harness for my climbing. The quality is amazing, I've been using this harness since it first came out and I'm not noticing any wear on the fabric, with 2-3 climbs/week. It's great!