Capilene SW T-Shirt
Item Details
|
Reviews
(
5
)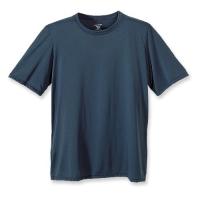 Manufacturer:
Patagonia



This item may be available at:
Description
This isn't your average T-shirt. Our Capilene Silkweight tee provides next-to-skin comfort when worn alone or as a base layer, and offers a degree of sun coverage and has a silky hand. Quick-to-dry performance with a loose fit to maximize ventilation.
5 Reviews
Review
Review by: rhythm164, 2006-04-29
Love mine, great for pretty much anything, and it's pretty durable. Only got one tear in my shirt, but I think it was from mountain biking. I take this shirt everywhere.
Review
Review by: flyinghatchet, 2005-08-22
I've blown my nose on stuff heavier than this shirt, but my initial doubts about its durability were quickly erased after a couple pitches of major rubbing and scraping up the offwidths and chimneys of Devil's Tower. Also proud to say that it was bone dry at the end of the day. All in all I'd have to say a pretty solid buy. -
Review
Review by: nathanial4, 2004-07-29
I have had mine for several years and love it. Very comfortable in all weather and seasons! Breathes well in summer is a good base layer in winter!

Get one! Jeff Corwin did!
Review
Review by: moeman, 2004-04-16
Awesome shirt. I usually favor dirt cheap hobo clothes, but this thing is an exception. Very breathable, wicks well, very comfortable. Plus it doesn't pick up the stank as quickly when wearing it for multiple days w/o washing it. The only con o it is the price, but its worth it to buy one.
Review
Review by: vegastradguy, 2003-06-06
A quick-drying, lightweight, non-cotton t-shirt. Love it. Probably the most comfortable shirt I own. I bought another one just in case I thrash this thing on a climb, although I'v been wearing the one I own for months and it still looks new. No fraying, no stains, its a beautiful thing.