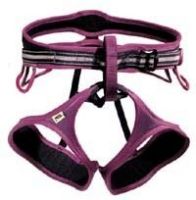 Manufacturer:
Petzl



This item may be available at:
Description
The wide, ventilated waistbelt and fixed leg loops give the Ciconia exceptional comfort It offers an adjustable rise. The leg loops are one size larger than those of the Aquila.
Technical specifications :
4 sizes Weight: 480 g
8 Reviews

Write your own Review


Read all 8 reviews
Review
Review by: zuniteton, 2005-05-10
Mine is really comfortable and I have never had any problems, I like not having to double back- Just good and solid
Review
Review by: sportclmbr20, 2005-01-06
I really like this harness. I like how the legs are nonadjustable. These type of harnesses seem to fit me better then the ones you have to tighten. Over all, excellent product from Petzl.
Review
Review by: climbinggurl, 2004-12-09
i l uv it!!! its just like my style.... just bcuz were gurls/woman dosent mean we cant like hav style in climbing acssesories
Review
Review by: gecko_girl, 2004-08-16
Dependable, and comfy. need I say more?
Review
Review by: keste, 2004-05-28
This is my first harness and after two years, I still find it very comfortable and l love the easy step in/release configuration. Its a great little harness, but I wish that it had adjustable leg loops 'cuz my thighs barely fit anymore.