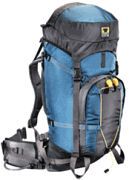 Description
This is a streamlined pack for alpine adventurists who escape to summits, ice climbing and backcountry chutes.
Features:
Removable foam bivy pad used as frame support for activities that require the pack to move when the user moves
6061-T6 Aluminum Stays
Top load access with wide conical opening for easy access
"No-flop" hood has D-ring and webbing strap that keeps hood in place while also providing a spot to secure a rope.
Sewn-down front pocket sized to fit avalanche snow shovel with zippered closure
Ski carrying ability through use of ski tail guides and compression straps
Volume: 3200 cu in
2 Reviews
Review
Review by: andrewj, 2005-12-01
very nice pack, but suffers from a bad case of excess straps. I lightened the load on mine in about an hour by shortening most of the straps to the tune of 1/2 pound of excess straps, zipper pulls, etc.
Very adjustable suspension, adds weight, but it helps carry the weight more comfortably. Can't decide if the compression strap that goes over the top is useless or not. I'll give it a few more trips then decide if it gets the scissors or not.
Review
Review by: fitzontherocks, 2004-02-17
My Cirque replaced an ooooold North Face climbing pack and what a difference! The suspension is great on this pack. In fact, it's the first time (out of about a half-dozen packs) that I've been able to fully appreciate how a good suspension makes heavy loads easier to carry. Extremely adjustable for a custom fit. I can fit my trad rack, a 60 m rope, draws, slings, harness, shoes, rain suit and a few extras in the main compartment. if I'm backpacking and climbing, I just strap the rope under the lid and put camping gear inside the bag. The top is an expandable roll-type duffel affair with drawstring, so you can stuff even more into it and then cinch it down with the lid. Then there's the snow-shovel pocket on the front and the adjustable lid compartment, which has a zippered wallet sewn in for small items like keys, change, cell phone, etc. The padded waist belt has gear loops and adjusts to give a custom fit of the bag to your hips. I've used my Cirque hard for about 14 months and it still looks brand new. Tough fabric and excellent construction. Great pack at a great price.