Classic Jacket
Item Details
|
Reviews
(
1
)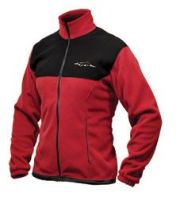 Description
Beyond Fleece offers the most advanced Soft Shells and Fleece available. Rated consistantly as one of the top 5 makers of technical outdoor clothing, Beyond Fleece is the only company that customizes every garment for you. What does this mean? Custom options and a perfect fit. Beyond Fleece began in Eugene, Oregon in 1996 with a dream. Scott could not afford a fleece jacket for his increasing time in the mountains, and they usually didn't fit right anyway. A custom made jacket was created. 8 years later Beyond has grown away from cutting on the floor, and sewing in a college bedroom. Now state of the art software analyzes your measurements, creates a dynamic pattern on the fly, and your custom jacket is cut on an advanced laser sited, cutting table that cuts your jacket out to with in 1/128 of an inch in 45 seconds. Your new garment is then set up for the sewing process. With computerized sewing machines one of our highly trained team of sewers will create your entire garment in one session. Quality Control then takes over. Once your product passes Colin's inspection, your order is sealed, packaged for shipping, and sent out. THIS JACKET Traditional Polartec 200 is perfect insulation.
1 Review
Review
Review by: nmoroder, 2005-04-09
Perfect fit. Excellent service from Beyond. If you are considering a fleece, buy it from them. You will not be disappointed. They're prices aren't even that high.