Climbaxe Ace Oval Carabiner
Item Details
|
Reviews
(
2
)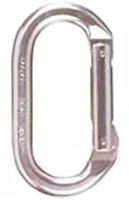 Description
Versatile, dependable, economical. Strengths: Closed 22kN/ Open 7kN/ Cross Load 7kN. CE certified.
2 Reviews
Review
Review by: mintcondish, 2004-06-09
like said before its a cheap biner and thats why i got them bc im poor. it is a bit more harder to clip compared with the BD's. its not my first choice oval biner but its a reliable one.
Review
Review by: tyify, 2004-06-02
For 3.95 a pop nothing beats these puppies. As far as ovals go these are pretty standard except the cost. The cost is what makes these worth owning...10 of them cost 39.50...Compare to others where you'd be spending 60+ for 10....action is pretty hard but I don't really care cause they are cheap as hell...