Climber's Guide to Devil's Lake
Item Details
|
Reviews
(
2
)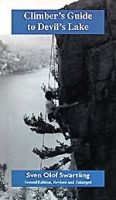 Description
This is the most popular and widely used guidebook for rock climbing at Devil's Lake State Park in Wisconsin.
2 Reviews
Review
Review by: sync, 2004-06-29
Though I appreciate Wildtrail's complaints about this guide book, I am not quite so down on it. I agree that the drawings aren't that great and it can be sometimes difficult to find exactly what climb you want and the best way to access it from above.

However, once you get a feel for the area and the guide book, you'll be able to easily identify virtually all of the climbs, and certainly all the popular ones.

NB: I have never read a different guide book for Devil's Lake, so I don't really know how it compares to the others.
Review
Review by: wildtrail, 2004-05-09
Though the most popular guidebook for the area, it is also the most inept. Using drawings, diagrams, and some poor-quality pictures it is almost impossible at times to find your desired climb.If you are new to the area, leave this book at the store and find area climbers to direct you.Beta, if one can call it that, is short and undescriptive. Tradition information is not provided and leaves one guessing at what the right gear would be for any given lead.Drawings are inaccurate and approach information/directions seem to be given via a guess.The only possitive thing I can say about this book is that it lists the most routes out of all Devil's Lake guides and once you spend six years climbing the area, the guide eventually makes sense. This book really offers no help, specifically for anyone visiting or new to the area.