Colorado Bouldering
Item Details
|
Reviews
(
1
)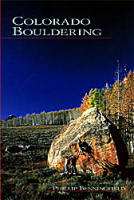 Description
by Phillip Benningfield; 386 pp.; This is the Bible of bouldering in Colorado. From High Country hide-outs to the popular Front Range crags, Benningfield's meticulously researched guide details thousands of boulder problems. A must-have guide for any local or Colorado visitor.
1 Review
Review
Review by: fredrogers, 2004-02-27
Very well made guide that's mostly up-to-date. Has good photos and directions for most of the areas. It's not a comprehensive guide to every boulder field in the state but that's because we find a new one each week. The book excels at describing the classic areas - Horsetooth, Carter, Flagstaff, Lumpy Ridge. It does not cover newer areas such as Poudre, Chaos Canyon, etc. The guide also does not go into excruciating detail (e.g. camping options, history) about every area simply because there as so many areas in the book.

A good companion to this book is CO Bouldering Vol.2 by the same author. It's not a 2nd edition but a companion that covers areas not mentioned in CO Bouldering.