Crescendo (windproof soft shell jacket)
Item Details
|
Reviews
(
1
)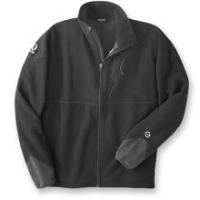 Manufacturer:
Pearl Izumi



This item may be available at:
Description
Windproof Breathable Microfleece Jacket – Product Review
One too many windy winter days in Eldorado Canyon was the impetus, really – Scott and I so cold we could barely operate cam triggers on the West Ridge's Handcracker Direct, dressed in normally nice, warm, layered fleece, nylon, and polypro. Not good enough, not by far. I decided there, at the first pitch belay, that I needed to upgrade my wardrobe with something that would keep me warm and happy on the windy, nasty days that we always seem to pick to climb on. I spent an hour at the gear shop on the way home from that climb, trying on retailer and name brand windblock jackets, looking for fit, features, and something in my size that wouldn't set me back $400.
The Crescendo is marketed by
Pearl Izumi™
as cycling outerwear, not as an all-purpose, do-anything jacket. I've spent a couple of dozen days putting it through its paces now on Eldo sandstone, Shelf limestone, Garden consolidated mud, Eleven Mile granite, alpine waterfall ice, A-Basin steeps & bumps, Vail bowls – and I love it. It's completely, totally, utterly windproof, keeping the chill off while several pitches up in Eldo, hiking the North Pole gate at Arapahoe Basin, and maching hi-speed powder turns in Sundown Bowl at Vail. Except for one exceptionally cold day tele-ing at the Basin, I've gotten away with just wearing a heavyweight polypro shirt underneath, and been warm – not just comfortable, able to deal with the elements, but warm.
The jacket is stylish; it looks good enough to wear out in town, après-ski, and on the crag. One of the best features for climbing is the extra torso length, and especially a bit more on the back. With a nicely fitted jacket, I have two inches under my harness in front and three in back – enough to ensure that the jacket won't pull out of the harness when bending and stretching, and to keep a great wind seal around my belly. The jacket looks and feels not-nearly-thick-enough to provide the kind of protection that it does; it's barely as thick as a heavy-weight polypro shirt layer, and doesn't interfere with buckling up the harness.
All four of the pockets on the jacket (two handwarmer, one left breast, and one right midback) are oversized and zip closed upwards. The back pocket has been perfect for stuffing a Schoeller™ hat for windier belays or keeping the head warm after taking off a helmet, high enough that even with the harness on I can access the pocket fully. There is no small interior vest pocket for ID or a key – one small knock on the jacket – and the other pockets are somewhat oversized for carrying such items. I could see losing something small from one of the huge zippered openings while digging for mittens or your headlamp, and not knowing it until later. The pockets are fairly flat-bottom at the bottom level of the zippers, and items could fall out if you left them undone.
The cuffs, armpits, and lower hem are stretch AmFIB™ waterproof to keep moving with you reaching for a placement or cartwheeling in 3 feet of heavy fresh snow; it took a significant number of sliding, looping, and tumbling falls to get any snow inside the jacket at all, and after a day of falling while telemarking with a lurk in storm conditions, I had all of a couple of frozen bits up inside the hem lip. The remainder of the jacket is
eVENT™
fabric, a 97% polyester/3% ePTFE (expanded polytetrafluoroethylene) covered inside by a grippy polyester mesh that keeps the jacket from riding around on your body when you twist or stretch, and outside by a soft microfleece. eVENT's proprietary fabric doesn't absorb body oil, sweat, outside water (or snow!), and is DWR treated to retain 80% water repellency after 100 wash cycles. And still, it's more breathable than my GoreTex™ XCR™ hard shell jacket with the pit-zips open. Next time around, I'm going to be a chemical engineer so I can play with these cool new fabrics in the lab. The jacket boasts a high collar with a protected zipper and microfleece on the inside, tall enough to get full coverage if you wear a toque with the jacket, without needing a gaitor. I will admit that when you tumble in the snow, the jacket goes from cool-looking black to not-so-cool-looking snowball, until you brush and beat it off a bit. The fleece stays dry, though, and other than hanging bits of snow/ice that freeze on from your body heat, the jacket goes back to nice-looking soft shell with a good shake-off. Even in full snowball mode, I didn't get wet from melting snow and I stayed dry inside with breathable protection that I haven't ever seen before in any fabric.
In short, I'm giving this piece of equipment a complete and hearty two thumbs up. I am more happy with the jacket than with any other I've ever owned (and I'm a gear slut). If I come across another one, I'll probably pick it up as a back-up – eventually the jacket will have to be retired, I'm sure, in say five years. The Crescendo, also available as a vest (not reviewed) retails for $175.00 (you can shop around and find them for about $130), is available in sizes S-XL and colors include Black/Coal, Desert Green/Coal, McIntosh Red/Coal (men), Black/Coal and Gulf Blue (women).
• eVENT™ fabric, 97% polyester/3% ePTFE expanded Polytetrafluoroethylene (excluding trims)
• Windproof protection with breathability
• Soft polyester microfleece outside for luxurious comfort
• Polyester mesh inside provides lightweight function
• Strategically positioned AmFib™ waterproof stretch panels for ultimate freedom of movement
• Zippered front hand pockets for warmth
• Ergonomically angled chest and back pocket for easy access to essentials
• High stand-up collar protects neck
• Made in Macau
(Another review you may find helpful follows:)

I questioned the ability of the Crescendo vest to be able to keep me warm. Its thin material didn't seem like it could do the job, even though the outer soft microfleece is known to provide warmth. What I actually found was the vest kept me very warm, and in fact became hot when riding in a day above 50 degrees.

The design of this vest seemed as though it was tailor made, which resulted in a very good fit. The inner fabric not only worked as a wind barrier but prevented the vest from clinging to the under clothing and hiking up. During riding or leisure wear the vest was never uncomfortable. The micro fleece collar felt smooth on the neck.

The vest has 3 pockets. They are on the left and right side and the upper chest. All pockets have zippered closures. I have a concern about the zippers being closed by pulling up on them. I have had clothing in the past with this style of zipper that after becoming used, the zipper had a tendency to unzip either partially or completely and let the contents of the pocket fall out. After approximately 2 months, the zippers on the Crescendo vest have not shown any signs of unzipping. Regarding the chest zipper, my personal feeling is that it is an inch or two too long.

As a suggestion, I recommend a small pocket on the inside of the vest to hold a small set of keys or a driver's license. A full-length zipper that extends to the top of the collar closes the front of the vest. The fabric at the closure of zipper is nice and smooth and designed nicely at the top of the zipper as to not irritate the chin. They folded over the fabric so the zipper when fully zipped did not sit and rub against the chin.

The weather conditions I wore this vest consisted of temperatures from the 30's to the 60's and in brisk winds. Underneath I wore either a short sleeve or long sleeve jersey while cycling or a turtle neck shirt during leisure wear. In the cooler temperatures and wind the vest kept me very comfortable and warm. In the upper temperatures it got hot wearing the vest.

It seems as though the vest is more suited for cooler spring and fall temperatures. Other than getting hot in the warmer temperatures, this vest performed very well, was very comfortable and kept me warm. Its lightweight design also added to the comfort of wearing it.

The Crescendo vest is a great addition to the layering of clothing for the cyclist, other outdoor activities and casual wear. I intend to get a great deal of use out of this vest during those cool and windy days.

--Roadcycling.com product review
1 Review
Review
Review by: tradkelly, 2003-04-19
It keeps me warm, it keeps the wind chill off in 60mph gusts and 30mph sustained winds several pitches up, it keeps me drier than my goretex. It's not bulky. It looks good. I like it. What's not to love? --tradkelly