Crux Knicker
Item Details
|
Reviews
(
3
)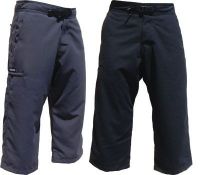 Description
Climbing Knickers by Sickle. Mid-Weight polyester. Two front mesh pockets, two rear velcro, and right leg zipper pocket.
3 Reviews
Review
Review by: forkliftdaddy, 2005-07-19
Great knicker with a slim fit and some stretch, but not quite enough. I burst the seam in the seat. Also, these can get a funky odor pretty quickly.
Review
Review by: danegerous, 2005-06-03
good look. awkward fitting waist and the belt with clip doesnt do much of anything for support. the crotch is a little tight and constricts a little bit. i can see my feet which is great, but the knees are a little restricted. while climbing, ive found myself having to pause to pull the extra leg out from being caught on my knee. btw, im 6'4".
Review
Review by: gogo, 2005-02-28
Love these pants. Good for sport climbs in Rifle involving kneebars, let you see your feet, good fit and look good.