DIRTBAGGER ROPE TARP LG
Item Details
|
Reviews
(
1
)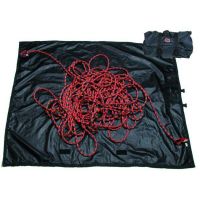 Description
Keep your rope clean and untangled! This is the simplest and easiest way to carry your rope to the crags. Just lay out our spacious tarp, flake the rope onto it and tie each end off to the brightly colored loops. The reinforced carrying handle makes it simple to carry from climb to climb, or it will fit easily into your pack. We have sewn cording into the edges of the tarp to keep it from blowing away. Assorted colors Dirtbagger large measures 57" x 72" Weight: 614 grams
1 Review
Review
Review by: wile_e, 2005-10-17
Great tarp; very durable. MOre then large enough for my 70 M rope.

Giving a lower score, because...
- doesn't have a shoulder strap.
- It's a pain to line up the folds w/ the compression straps; so they go over the edge sometimes.
- it doesn't roll up into a sack like the Rope Ranger/Rope Master. This would eliminate the previous issue.

It does have compression straps to hold it together. It also has a carrying handle, which is better then nothing, but I'd like to be able to carry it on my shoulder.