Darn Tough Socks
Item Details
|
Reviews
(
3
)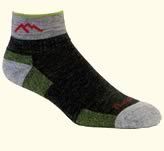 Description
We live and work in Vermont and our backyard is the perfect testing ground to make the finest Premium All Weather Performance Socks. We ski, snowboard, hike, bike and run in the most unforgiving climate in the lower 48. It is under these conditions that we design, test and manufacture our socks.
[b]High Density Knitting:[/b] More knit stitches per inch equates to durability and cushioning without bulk.
[b]Performance Fit:[/b] From form fitting toe boxes to sculpted heel pockets and knit-in elastic support at the arch, our knitting techniques produce the finest fitting performance sock available.
[b]Merino Wool:[/b] Our custom count, shrink treated Merino wool enhances the comfort and durability that outdoor enthusiasts have come to expect expect from this fiber.
[b]Coolmax®:[/b] Because wool is not for everyone. We use an exclusive Coolmax® blend to create a sock with exceptional softness, durability and superior moisture management.
[b]Full Cushion:[/b] Full Cushion socks have dense terry loops that surround the entire foot creating maximum cushioning and warmth without bulk.
[b]Half Cushion:[/b] For those who prefer a sock with less cushioning. Our cushion socks have dense terry loops on the bottom of the foot producing cushioning and warmth without bulk.
[b]Ultra-light:[/b] Flat jersey construction to meet the demands of both the shell-fit customer and the Nordic athlete.
[b]Mesh:[/b] Open knit mesh construction is lightweight and extremely breathable. It's one fast sock.
[b]Ribbed Knit:[/b] Form fitting to the contours of your calf, shin and ankle ensuring a custom fit.
[b]Ribbed Ankle Support:[/b] No Slipping. No Bunching. Helps prevent blisters.
[b]Elastic Arch Support:[/b] Knit into the arch of all of our socks to provide added endurance.
[b]Ring Toe Construction:[/b] Terry loops surrounding the toe create a comfortable invisible seam.
GUARANTEED FOR LIFE!
3 Reviews
Review
Review by: cragb, 2006-03-24
Darn Touch socks rule!! They last forever (I've worn mine damn near everyday for a year in AK, VT and AZ and they're still going strong.. they don't stink either... the magic properties of wool!!! seriously folks buy a pair and you won't be disappointed.... Not to mention they're guaranteed for LIFE...no smartwool offers up a claim like that and stands behind it.
Review
Review by: notch, 2006-02-26
Same story here. The rep gave me a pair when I was at the NEWSR show a few weeks ago, and these things are incredible. Obviously I can't speak to their durability yet, but these are so comfortable that I wore them 3 days in a row! My wife finally made me throw them in the wash, but even then they didn't smell. Regardless of the price, I'll probably throw down for a few pair once the hiking season kicks off.
Review
Review by: j_ung, 2005-11-30
[size=12][b]Full Disclosure: The company that manufactured this equipment provided it free of charge to RC.com and RC.com then provided it as compensation to the reviewer for his or her review. This company does not currently advertise on RC.com.[/b]

I can't think of any single piece of equipment that I take more for granted than my socks. I always buy the cheapest socks I can, without regard to how they perform and eventually – it always happens – I blow them out. I spend the rest of the day without the luxury of being able to take my socks for granted, and then I go to the store and buy the cheapest socks I can find... again.

Until this year.

In May, the Darn Tough sock rep handed me a pair and, with no expectation of getting a review in return, said simply, "Try these." So I did, and here's what I found. One, DT socks are comfy. I also have a pair of Smart Wool (I am [i]not[/i] contradicting myself; I won them in an Access Fund raffle) and the comfort factor is, well, [i]smarter[/i], since the DT socks conform to the contours of my foot much better. Two, Darn Tough socks are appropriately named. I've logged countless miles on treadmills, trails, talus fields, sidewalks, streets and hardwood floors, and my socks haven't shown any inclination to break down, thin or become in any way threadbare. And three, my DT socks don't stink.

Says Roly Deliveau, Marketing Manager for Darn Tough, "Start with great raw materials and you end up with a great product." That this is an easy claim for Deliveau to make becomes obvious as he explains what sets Darn Tough socks apart from its competition. "Most socks," he starts out, "are knitted on machines with anywhere from 84-140 needles. Ours are knitted with 168." DT uses a very high-quality, fine-gauge winter wool and, as Deliveau continues, "The finer and softer the wool, the more durable and comfortable it is." Darn Tough, in fact uses a finer gauge wool than any other sock maker. Combine that with 168 needles and you get what can arguably be called the best sock in the world.

As for the fact that my socks don't stink, Deliveau shrugs and states that, "It's hard to quantify the benefits of better wool." Maybe it's the Wick-it Dry Technology that pulls moisture away from feet like salt on a slug. Maybe it's magic. OK, whatever, but really, my socks don't stink and that's saying something.

So what's the catch? The price. For socks, Darn Tough is a bit steep. My ¼ socks will run you $14.99 per pair and an over-the-calf hiking sock will run you close to twenty. But, you get a sock that will last twice as long as anything else out there and, if you buy them as a present for your partner/tent mate whose feet stink worse that Satan's, you'll come to think of it as an investment in a good night's sleep. It's hard to take those for granted. [/size]