Denali Ascent
Item Details
|
Reviews
(
1
)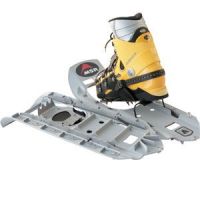 Description
Demanding winter ascents require equipment as tough as you are, which is why we created the Denali Ascent snowshoes. These lightweight, technically superior snowshoes offer incredible performance on ice and snow-covered landscapes.
Deck Platform
Expedition proven, nonstick deck sheds snow and ice.
Modular
4- and 8-inch flotation tails make MSR snowshoes a 3-in-1 package, eliminating the need for multiple pairs of snowshoes (sold separately).
Steel Traction Bars
Serrated edges run the length of the shoe on both sides and grip the snow for unmatched traction while traversing.
Televator Heel Lifter
When needed, they support the heel to reduce calf fatigue on long ascents.
Durable Steel Crampons
Hardened steel crampons with four aggressive front teeth offer unrivaled traction.
Steel Saber Teeth
Provide extra grip in hard-packed snow.
Braking Bars
Quad-point braking bars work in conjunction with the steel crampons to stop you in your tracks.
Heel Stabilizer
Crampon extension eliminates heel drift while traversing.
Flexible Binding
Packs flat; stays moisture-free and adjustable in freezing conditions.
1 Review
Review
Review by: sixleggedinsect, 2004-11-28
I've battle-tested these snowshoes in the New England Presidentials, walked miles of rocks and ice in them, stomped up hills and down again, deep powder, windswept ice, alpine fir traps, the works. I love them. They are cheap, light, and robust. I've had other snowshoes, and sold 'em. The plastic is gouged and rough on the underside, the crampon points are dull, but these bad-a** snowshoes keep at it. I have the version from a couple years ago. as far as i can tell they are identical except for a spicier-looking traction rail on the underside of the new model. my only problem is the heel lifter is a little weak. after using it for a while, the metal bar has started to deform the plastic which holds it in place- probably has a limited life span if i keep hammering on it. but who cares, they may have fixed it in the new version, and it isnt that great anyway. solid all around snowshoe. woudlnt use anything else now.