Dixie Craggers Atlas
Item Details
|
Reviews
(
1
)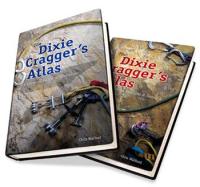 Manufacturer:
Other



This item may be available at:
Description
"This new edition of the Dixie Cragger's Atlas continues in the above vein, and boasts many improvements over the previous edition. If you already own the Dixie Craggers Atlas, why should you buy the new ones? Here's why •A two volume set - one book for Tennessee and one for Alabama and Georgia - will keep your pack lighter and guarantee that your skinny legs won't get bigger •Hundreds of new routes at existing areas •Clear and concise route descriptions •Grade revisions and changes (by consensus) at all areas •Many new areas, most of which have never been featured in any guidebook before •Lots of great action photos •New cliffline aerial photos with overlays •Super accurate birds eye topo maps showing every nook and cranny •A new format that includes numbered text that corresponds to numbers on all topos and photos •A detailed and comprehensive index, with routes organized alphabetically and by grade. •Expanded maps making it easier to travel and plan trips" -www.dixiecraggers.com
1 Review
Review
Review by: blake_wrinn, 2006-06-13
a fantastic, well thought out, guidebook! Two Thumbs Up!