Dominator V
Item Details
|
Reviews
(
3
)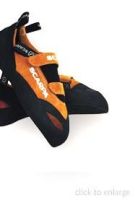 Description
Combining the comfort of a slipper with the performance of a lace-up, the Dominator Velcro is designed for high- performance bouldering and sport climbing. Wear it tight for a precision fit and enjoy this shoe's sensitivity on indoor walls and grippy toes in the outdoors. Built on the higher- volume, single-cambered last of the Dominator, the Dom V's Velcro closure sucks it to the foot and creates a perfect, non-toe-crushing fit on the first go. Great for boulderers or sport climbers who want a shoe that's slightly less stiff than the traditional Dominator but require laser precision and sensitivity with an edge.
High-performing bouldering and sport shoe
Sensitive midsole allows for precision climbing
V-lock rand is good for toe and heel hooks

3 Reviews
Review
Review by: enzo81, 2006-03-07
very good. very extreme. very tight fit
Review
Review by: littlebrother, 2004-06-22
very aggressive shoe. the toe is very downturned. i found this shoe great for gym climbing and bouldering. it really excelled on anything overhanging, but on vertical or positive climbs, they didnt perform too well because of the downturned toe. be weary of the built in toe box. it doesnt stretch at all. i bought mine a little small and suffered with them until i bought new shoes. if they are comfy in the store, get them, but dont get them too small.
Review
Review by: macd, 2003-04-04
these shoes are really good for overhanging rock bouldering and are really aggressive, but aren't the best for traversing problems because they are quite downpointed . i reccomernd these shoes to boulderers or gym cllimbers that are able to take them of qite a bit.