Dosage Vol. 1
Item Details
|
Reviews
(
3
)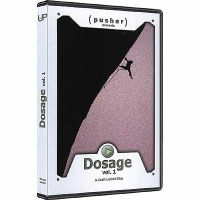 Manufacturer:
Pusher



This item may be available at:
Description
Great DVD featuring many of todays toughest climbers; Sharma, Gram, Kehl, Rands, just to name a few. It also has a great segment on Sharma sending Realization.
3 Reviews
Review
Review by: jgross, 2006-03-13
No text provided
Review
Review by: grimpiperx, 2005-11-10
I thought it was actually a very good video and still is better than most other stuff out there. Very good mix of types of climbing, it had pretty much evrything you could want in a climbing video except lack of Ivan Green.
Review
Review by: onbelay_osu, 2004-09-14
a bit long winded...a the scenes with josh by his computer are wired...the climbs are great but the format is just well not! worth watching if someone has it...i definately do not recomed buting it!