DuraLite™ Mini Cookset
Item Details
|
Reviews
(
1
)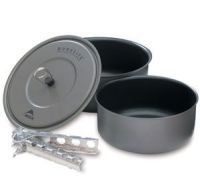 Description
If you're into Fast & Light, the smaller pot sizes in our mini cookset will put a smile on your face and a spring in your step. Includes 1- and 1.5-liter pots, lid, PanHandler™ and Packtowl®.
Weight: 16.9oz/479g
1 Review
Review
Review by: musicman, 2004-05-29
i do not have this pot set but my climbing buddy does and i have used them before. they are great, they are so easy to clean which is a huge bonus when cooking something like chili. the cloth that comes with it is also great, it makes cleanup even easier, and when your done with it, just wring it and its dry and ready to go. the pot handle thing is definetly a nice commodity to.