Dynotron
Item Details
|
Reviews
(
2
)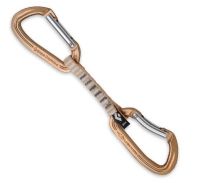 Description
The fifth clip offers a manky gaston with a glassy soap-dish smear for your foot. You need a big target: the Dynotron biner is big and strong, offering the largest basket area of any BD biner. Our Dynotron Quickdraw pairs a straight and bent biner with a 12-centimeter Spectra dogbone. A keylock nose clips and cleans easily while the dual-trac gate eliminates slippage or botched clips. The Dynotronís unique feel and size allow it to excel when dexterous clips are crucial to success. U.S. PATENT NO. 5,878,834
2 Reviews
Review
Review by: p0bray01, 2005-10-27
THis is actually my second draw....the first being the DMM Truclip. The keylock nose combined with a huge basket and dual track gate makes clipping a breeze. These baby's have help my big clydesdale butt on many a whipper. The only downside is that when going to clip other draws you might miss a few times because the dual trac gate really does suck the rope in the basket! Weight is not too much of an issue for me but they are a little heavier. I like this because it makes me trust my pro. more. Black diamond lover forever!
Review
Review by: grimpiperx, 2004-12-09
These draws are REALLY smooth clipping they are huge making them easy as well. The whole dual trac thing actually does help making these as or more easy to clip than wire gate. The draws they come on are a little short but the rope side has a rubber loop on the inside on the end so the biner wont move. The only downside is these are quite heavy at 49grams a biner.