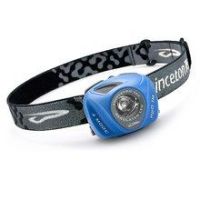 Description
Designed with the user in mind, the EOS is optimal for both localized needs and spotting at a distance. The combination of a Luxeon/1 watt L.E.D. and the Princeton Tec designed optimized lens/collimator maximizes the beam by balancing long throw with flood light. The 3 AAA battery footprint of the EOS is similar to the Aurora providing a self contained battery system that eliminates external wires. Recognizing that different amounts of light are needed for different conditions and situations, the EOS is equipped with (3) brightness levels and a blinking emergency/signaling mode. Each level provides true current regulation ensuring that the EOS will remain at constant brightness as long as the batteries have sufficient voltage. The use of high grade materials ensures durability and strong resistance to water/weather/environment conditions.
1 Review
Review
Review by: sixleggedinsect, 2006-01-03
I bought this headlamp about a year ago and I love it. I've used a ton of different lamps from a handful of different companies and im still pleased with my choice, a year later. the EOS is as bright as i need it to be for routefinding at night in technical terrain. the bright mode is just that- really bright. the beam is very collimated, ie: spotlight, so its good for distance in a way that some other lamps aren't. for some things, like reading, this can be a little bothersome, but it certainly isnt a problem. the three brightness settings are fine. i wish there was a slightly less bright 'low' setting, as i coudl read with a lot less light, but i suppose it doesnt matter much. you still get gobs of hours of light out of a set of batteries. speaking of which- you get markedly less burn time out of NiMH rechargeables than alkaline batteries, which i hadnt noticed with some other lamps, but its still plenty of burn so it hasnt been a problem. other notes- i really really love that it is a single forehead-mount unit. it has all the firepower of the BD zenix or similar lamps, without the fuss and tangling and weight and constant breaking in packs of the wires and battery packs. when i cinch it to my forehead it does not bounce around when running, although if you specifically want a running lamp it still feels a little weird. might want one a little less heavy up front. the price is right, the product quality and warranty are better than the 'name brands', and it works a charm. it burns through batteries pretty quickly if you actually use it in the highest setting (i very very rarely ever do), but then a few extra AAAs in the pack weigh next to nothing. id choose this over the zenix for all situations.