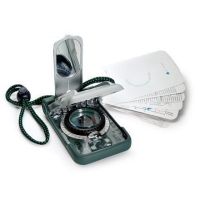 Manufacturer:
Brunton



This item may be available at:
Description
This advanced compass features a magnetized disk for accurate bearings and comes with helpful reference cards that store inside the compass
Magnetized disk is more accurate than conventional needles and settles quickly for fast, accurate bearings
Anti-static, liquid-filled dial with jeweled bearing features 1 degree gradations to ensure accuracy, sighting mirror for improved accuracy
Ergonomic rubber shoe on bottom of compass grips map surface and is comfortable to hold
Declination adjustment scale allows you to account for the difference between magnetic and true north; scale on base is adjustable to your location
Three different clinometers for measuring slope angles -- useful for determining snow slope stability and for surveying
Two of the clinometer scales offer 5-degree increments, 1 offers 1-degree increments
Includes USGS map scale 1:24,000, ft, Universal Transverse Mercator (UTM) and mile scales for position accuracy
Waterproof field reference cards includes navigational, topographical and survival information that store in the compass
Includes built-in magnifier, protective, flip down cover and lanyard
2 Reviews
Review
Review by: f_thomas, 2004-05-29
I concur with bigdrop. Tons of bells and whistles, most not necessary for accurate navigation, but nice. The Eclipse uses a unique needle to line up, but I went through two of the things due to bubbles in the vial. Took one to Alaska and ended up with a bubble he size of a nickle. Replaced by Brunton. Second one formed bubble at 9,000 ft. and it grew to the size of a quarter. The bubble shrunk after returning to sea level, but never got smaller than a dime. It went back to Sports Chalet and I switched back to the Silva Ranger CL
Review
Review by: bigdrop, 2004-04-15
A great concept with a poor execution.

The Brunton Eclipse compass seems overly susceptible to permanent bubble formation in the vile.

Brunton addresses this issue in their online FAQ:

"Why is there a bubble in my compass?
The bubble can be caused by using the compass at higher elevations and/or exposure to cold temperatures. The bubble forms as the liquid in the vial expands or contracts at a rate faster than the rigid plastic vial, which forms a vacuum or a 'bubble'.
The bubble will normally disappear when the compass is returned to a lower altitude or returned to room temperature. Should the bubble persist, place the compass in a warm spot, like a sunny windowsill, so the fluid in the vial will warm and return to its original volume.
Please be advised that the fluid in the compass is used to dampen or slow down the movement of the magnetic needle. Having a small bubble in the vial will not affect the accuracy of the compass."

Source: http://www.brunton.com/about.php?action=faq&faq_id=44&show_all=&start_num=5&faq_cat_selected=Compass

However, in a span of two years I have owned 3 (through warranty exchange) Brunton Eclipses and all of them formed permanent bubbles that would not go away. The bubbles where so big that they actually pushed the magnetized disk against the vile and in order to get a reading I had to tap the compass to overcome the friction between the disk and vile. Needless to say the compass wasn't trust worthy and MEC agreed to give me a full refund.

Buyers beware.