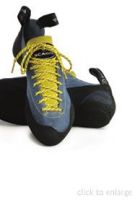 Description
The new Eclipse is the be-all and end-all in comfortable versatility. Perfect for entry-level climbers, the Eclipse is built on a flat last that's supportive yet flexible, firm yet sensitive. The polypropylene midsoles don't require lots of break-in time and provide healthy support on long climbs and edgy routes. The Eclipse is at home when sport, trad or gym climbing—and is equipped with a thick toe rand for durability and thinner, less tensioned heel rands for comfort. With a progressive, un-entry-level look, the Eclipse is the best all-around shoe at this price. Great value, great shoe.
Great entry-level shoe for climbers who want to do it all
Comfortable fit with supportive midsoles
Progressive feel and look

4 Reviews
mythos
Review by: alpineluz, 2006-11-27
I actually think these shoes are super-sticky and great for small edging. I have a narrow foot, and think this shoe is perfect for someone with narrow feet. I did fit them small, though.
Review
Review by: braaaaaaaadley, 2006-09-06
After using these shoes for over a year I must say that I am pleasantly surprised. I bought these shoes online for $30 on sale for indoor climbing and after using them indoors I thought that I would use them for long/easy trad outdoors and they work great. The positives are: the fit is great for my foot (narrow heel and a semi wide-bony ball), they smear wonderfully, they are very sensitive, and they edge better than one would imagine. The downsides are that they don't excel at edging, but they work pretty well if you learn to really trust your feet and let the rubber do the work (duh). Additionally the construction is very good... my shoe shows almost no wear after climbing on them on average twice a week, although the rubber sole is starting to delaminate right around the toe from the shoe, but it is not spreading out or causing any change in performance. All in all this is a great shoe for long routes or beginners.
Review
Review by: erroronn, 2005-04-08
Eclipse-- Narrow to medium heel and midfoot, wide ball of the foot area and medium toe zone. The cut of the shoe prevents it from snugging down on the toe area as much but would be good for someone with a wider forefoot. I found the forefoot to be quite a bit wider than the Vision and in fact a good deal wider than my Evolves. I would not recommend this shoe for anyone with narrow feet. The length of the 46 is again perfect for a size 13, toes slightly bent.
Review
Review by: wesleydouglas, 2004-06-17
I find that these shoes are good for smearing and shallow cracks but their overall edging ability is poor. Their asymmetrical designs makes them very comfortable shoes but buy 'em smaller cause they will stretch.