El-Zee Crashpad
Item Details
|
Reviews
(
0
)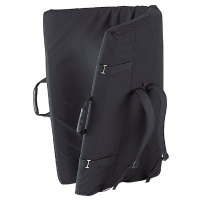 Description
So I took the monetary plunge, and bought a crashpad. At the top of my list was price, and so I immediately turned to
MEC
(Mountain Equipment Co-op). I was tempted by the Flashed pad they sell there, which I should say goes for at least $20 cheaper than from
Flashed
, oddly enough. But by pricing it at $205, I didn't like crossing the $200 mark...I opted for the El-Zee instead, at $158.00 (Can).
First of all, the shipping was bloody fast. My two options were regular postal shipping, 5-7 business days, for $6; or "fast" shipping, 2-5 business days, for $10. No brainer there, fast shipping it is! I ordered it on Sunday, it shipped Monday afternoon, and arrived at my door before I finished my morning coffee...wow!
It's only 3 inches of foam, and while the site says it's 3 inches of open cell I'm not convinced. There's two seperate types of foam in it, 2 inches of a squishyer foam and 1 inch of real sturdy foam. Interestingly enough, there's some small amount of extra material covering my pad, so I figure I might be able to fit a half inch more foam in there and still allow it to bend properly when folded.
The buckles are sweet! They're metal, no worries about busting them up. The design of them is great for quickly packing it up or unfolding the pad, and very easy to cinch down. Nice thing is there's two straps for cinching the "ends" of the pad together, and one for the bottom so you can stuff all your shoes, chalkbag and other assorted crap into the folded pad without worrying about it falling out, it seals nicely!
Good and thick cordura covering, as I said above it's kinda loose so expect it to move around a bit, not caused any problems for me so far, and does open up the "expand your pad" idea. Zippered as well, so you can wash it once it get's too gungy, good solid feeling zipper, tucks away in the zipper guard flap so you don't crush it.
The adjustable shoulderstraps are surprisingly comfortable, not padded at ALL but they fit my back and shoulders really well for some reason. Varries from pack to pack, but I've had a few packs that the shoulder straps were too close together and rubbed my neck as I walked. There's no waist strap or chest strap, but you're not lugging 20 pounds of gear in it, so it's not a concern.
Highballs aren't my thing so I can't say how well it handles those, though MEC does have a highball sheet, 3 bucks, currently mine is on backorder (hey, it's 3 bucks, what the hell eh?). You can stuff it on top of the foam layers to spread out the impact zone. Normal falls, it handles really well, it's given me a lot more trust when bouldering and I can finally try moves that would be possibly paralyzers if I fell on before.
It does not shape itself well over funky objects, being a stiff pad, so draping it over talus is a problem. It won't be a nice soft contoured landing spot on larger talus, but the way I figure it you won't feel the rocks beneath it much, even if you loose your footing because the pad shifts. It'll take the initial fall, that's where the danger is.
Dimensions are 3ft by 4ft unfolded, not the largest by any means, but for $50-$80 cheaper than a pad of very similar dimensions and features, it's a winner hands down. I highly recommend it, unless you've gotta eat customs fee's, so ship it to your Canadian buddy's place and have him send it as a 'gift' with 'no commercial value' to you. Well worth the money!
And the biggest thing: fits perfectly in the back of my car...sweet.
Mike...