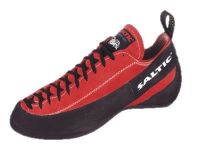 Manufacturer:
Saltic



This item may be available at:
Description
Technical shoe designed to perform on small footholds and edges. A good all day shoe.
Material: Leather
Lining: Cambrelle
Sole: Saltic Extasy 5mm
Last: Board Lasted
1 Review
Review
Review by: thulani, 2006-06-20
These are my first shoes. I climbed a single pitch trad route (not leading) in a pair of sportiva cliffs and thought OMG how did I ever climb in normal shoes. No wonder it was so damn scary. Anyway I decided there and then that I had to get my own shoes. I went looking and tried the sportiva mojos which I had my eye on since they are sportiva and I figured they where the best. But they weren't available in my size and the ones that I tried were way uncomfortable and didn't strike me as spectacular. Enter Saltic Eso after trying montrail splitters I tried these which the guy I know at the shop has worn for two years and swears by. They were suprisingly comfy owing mainly to the fact that they are lined and have a slightly padded tongue. Not as padded as the montrail. I found the montrail a little too cushy. Like a marshmallow. The sportivas are the other end of the scale they are very "functional" unlined leather which is a little uncomfortable not to mention the stretch factor. Anyway so I went bouldering at my local (if 40 min drive is local) gym and they were fanbloodytastic. they're fairly sticky although I have only the cliffs to compare and I climbed rock in those not plastic. They are comfy without feeling cushy. They hurt a lot but thats just cause they're new and I'm not used to pain. And they have a nice point on them that the sportivas (cliff and mojo) lack which I really like. I did a kind of a heel hook thing on an overhang and the heel felt solid another girl there had velcro bufo's that couldn't take the hook but my eso held up perfectly. So I think they're great. But please don't take my review too seriously as I'm very new to climbing. Get advice from the people you climb with or "gasp" from the guy at the shop (so long as it a decent shop).