Excellence 8.6mm Double
Item Details
|
Reviews
(
2
)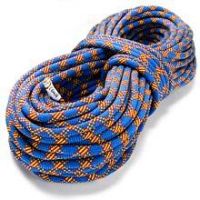 Description
The Blue Water Excellence lines are available in 3 colors (Red, Green, & Blue) and are an oustanding double line designed for use on Alpine and long multipitch trad lines. They are available in double dry or standard, in 50m, 60m, or 70m lengths.
2 Reviews
Review
Review by: vegastradguy, 2004-12-29
Great rope, I've had them for just about a year now and they are nothing short of amazing ropes. I've logged probably 50 to 60 pitches on them so far (only 2 falls though!) and they still look and feel like new. One piece of advice for these when they are new: go find a 200' cliff and rappel on them about a dozen times or so, then flake them and forget them for a week. This will get the kinks out and prevent snarls in the lines (something that REALLY sucks when you run on doubles!).
Review
Review by: dredsovrn, 2004-05-05
These ropes are great. They held my first trad lead falls. The pair weight about as much as a single 10.5 on lead, but much less than two 10.5's (if you are trailing a second on multipitch). Nice hand as well. The rope clips easily, runs freely, and halfs allow a lot more protection options. They also make it easy to make your belay stations multidirectional.

These will be easy for the leader and tough on the belayer. Not unmanageable, but be prepared for some snarls the first few times. My favorite lead ropes.

Get yourself an ATC-XP or DMM Buggette for a belay device to handle these skinny cords. You may want to double up on biners on rappell for better control.