Expedition Poles
Item Details
|
Reviews
(
1
)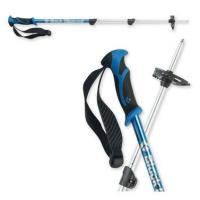 Description
The way you ski inspires us to create poles that are both lighter and stronger. New this year are re-engineered dual-density grips, anatomical wrist straps inspired by cross-country skiing, carbon fiber lower shafts and a radical new Powder Basket. These complement respected technologies—like the non-slip FlickLock™, our field-proven pole adjustment system, and the functional 3/4 Basket.
1 Review
Review
Review by: physics, 2006-10-08
excellent! if you want the best poles for trekking, buy these. 1) the flip lock mechanism is the best, easily usable with gloves, does not freeze easily, and does not collapse randomly when you put your weight on it and 2) these things pack down to a very short, packable length. These are super durable, mine of taken a BEATING for 3 years and hold up better than one could expect. Even used once to self arrest a light snow slope slide (don't like carrying an axe unless absolutely have to) and no problem. used in winter multiple times and the fliplock is priceless. I like these so much I will buy a pair of these again (if these current ones ever wear out). A+ design on these ones BD.