Faders Plus Fly Quickdraw
Item Details
|
Reviews
(
2
)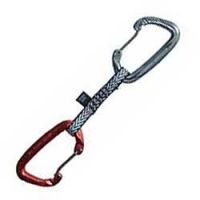 2 Reviews
Review
Review by: tyify, 2004-06-02
Bought to fill out the rack with some crappy quickdraws incase I wanted to do longer climbs...Now have replaced older heavier pieces. The action is smooth for the price and they clip well. The only thing bad about them is they are a little inconsistent...but for 9.95 who cares...
Review
Review by: picaco, 2004-05-19
I bought these draws with some extra cash as "backups" or whatever you'd want to call them. They have now replaced my older, more outdated draws b/c they are so much lighter. The one thing I'd change, and probably will on my own, is the length of the sling btw the biners. 4" is just too short sometimes.