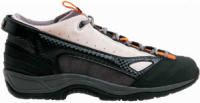 Manufacturer:
Mad Rock



This item may be available at:
Description
From MadRocks:

The Mad Rock Fanatic is a hybrid model that combines the comfort and support of a technical approach shoe with patented Mad Science rock shoe features. Sturdily built, with split ultrasuede leather construction with a padded polyurethane midsole for all-day comfort, and unique offset asymmetric speed lacing system for quick and positive fit. The molded textured sole is made of sticky Mad #5 rubber, and is designed for excellent traction in all conditions, all terrains. The power upper toe cap is made with Mad Formula #3 rubber to ensure that your toe jams will stay put in the offwidths. The sole on the Fanatic's forefoot has a flat (non-molded) area well suited for grade-5 climbing, and a molded heel cup with Mad #3 rubber for heel hooking. Of course, being a dual purpose shoe from Mad Rock, the Fanatic won't let you down in the style department-- whether you're working on the sales floor, slinging lattes, or slumming it on casual Fridays, we've got you covered with all-day comfort and support. Fanatic: The Mad Rock model for when you want to step off the crags and go straight to town. Or is it the other way around?
3 Reviews
Review
Review by: patgio, 2005-11-20
These shoes are not suitable for long approaches and do not have enough padding. They climbed reasonably well. They gave me blisters and I gave them to good will.
Review
Review by: johnhennings, 2005-10-08
These shoes are awesome. They have held up for countless pitches of jugging and climbing. The toe profile and beefy rand allow for technical jamming in cracks and good feel on small holds. The rubber sticks like MAD.
Review
Review by: boulderjoe, 2005-04-22
This shoe performs equally well on or off the rock. This shoe has a narrower toe profile then most approach shoes and it goes a long way when climbing up rocks. The rubber is super sticky and the semi-hooker heel really works well for heel hooking. Once i tried them out, i was hooked. They are perfect for kicking it around town, or warming up on a nice boulder problem.