First Need DeluxePortable Purifier
Item Details
|
Reviews
(
2
)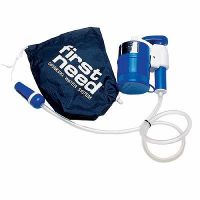 Manufacturer:
Other



This item may be available at:
Description
This durable filter is focused on slightly longer trips. EPA certified non-chemical trail option. A closed system prevents contamination and removes viruses without chemicals. The unit screws on to a Nalgene, removing the need for an outlet hose. 15 oz
Manufactured by General Ecology, Inc.
2 Reviews
Review
Review by: mgoodro, 2005-05-07
This was my first filter. I also bought it when it was much cheaper; I paid around $40 for it. I love the fact that is screws onto a Nalgene bottle. In addition to guaranteeing the purity of your water this is the only way this beast can be considered usable; it is definately a two hand task and the pump action is guaranteed to burn calories. While this seems lighter, it actually weighs more than my 1.5 lb Katadyn pocket filter. At $93 it is no longer the value it once was.
Review
Review by: rockmaninoff, 2004-08-21
I have not used this product for several years because I found it lacking in many respects and now use a different filter. Originally, this was one of the the best (and only) microfilters available. Its best use was as a combination filter/forearm strengthener, since it required Herculean effort to pump. It was reasonably priced back in the 1980s, but is now much more expensive than other filters. I believe this is the only filter to actually be certified to eliminate all contaminates, but other products work better and have never let me down either.